Injustice Is Served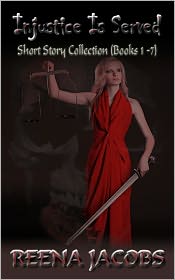 Seven psychological thrillers to keep you awake at night.
Injustice Is Served is a collection of stand alone short stories where the punishment fits the crime. Albeit, the punishments are served through alternative means other than the legal justice system.
Each book is a bite-sized story. Think of them as appetizers… or a seven course meal if you download the complete collection.
Look for Injustice Is Served as a short story collection or as individual eBooks.
No lawyers.
No judges.
No trials.
At last,
Injustice
Is Served.
Not meant for bedtime reading, children, or the guilty.
Injustice is Served (Books 1 – 7) available at the following locations
Smashwords || Barnes & Nobles || Sony Reader || Kobo || iTunes || Diesel ||  Amazon.com || Amazon.uk || Amazon.de || Amazon.fr || Amazon.es || Amazon.it || Goodreads
Rated M for intense violence, blood and gore, sexual content, strong language, and enough offensive content to make a man clench his knees tightly together.
Smashwords || Barnes & Nobles || Sony Reader || Kobo || iTunes || Diesel || Amazon.com || Amazon.uk || Amazon.de || Amazon.fr || Amazon.es || Amazon.it || Goodreads
Smashwords || Barnes & Nobles || Sony Reader || Kobo || iTunes || Diesel || Amazon.com || Amazon.uk || Amazon.de || Amazon.fr || Amazon.es || Amazon.it || Goodreads
Smashwords || Barnes & Nobles || Sony Reader || Kobo || iTunes || Diesel || Amazon.com || Amazon.uk || Amazon.de || Amazon.fr || Amazon.es || Amazon.it || Goodreads
Smashwords || Barnes & Nobles || Sony Reader || Kobo || iTunes || Diesel || Amazon.com || Amazon.uk || Amazon.de || Amazon.fr || Amazon.es || Amazon.it || Goodreads
Smashwords || Barnes & Nobles || Sony Reader || Kobo || iTunes || Diesel || Amazon.com || Amazon.uk || Amazon.de || Amazon.fr || Amazon.es || Amazon.it || Goodreads
Smashwords || Barnes & Nobles || Sony Reader || Kobo || iTunes || Diesel || Amazon.com || Amazon.uk || Amazon.de || Amazon.fr || Amazon.es || Amazon.it || Goodreads
Smashwords || Barnes & Nobles || Sony Reader || Kobo || iTunes || Diesel || Amazon.com || Amazon.uk || Amazon.de || Amazon.fr || Amazon.es || Amazon.it || Goodreads